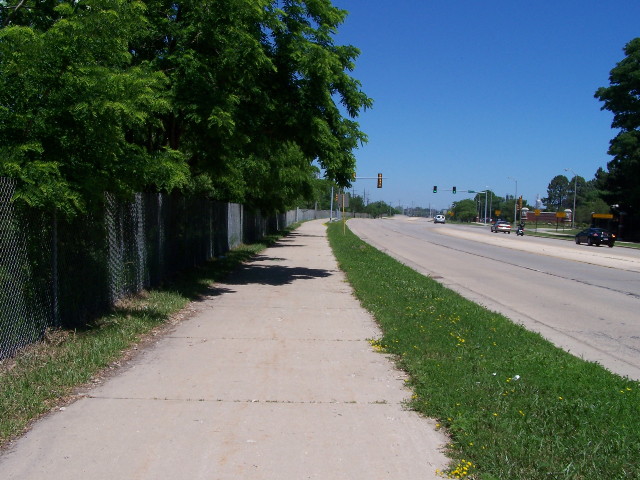 Robert McCrory Bike Path, Kenosha, Wisconsin
My younger son, James, has started riding to work (hurrah for him!!--5 miles each way). A large part of his travel is on a "bike path." Hurrah!! He's safe from cars!!
Uhhh--well, no...In fact, my reaction was "Oh, no!" The supposedly safe "bike path" is merely a widened sidewalk, right beside the street...and he reports that EVERY DAY he nearly has a collision with a car at an intersection....!!!! Did that frighten his poor old dad? You betcha!!
Of course, the same thing would be true if he were riding in a bike lane. He'd have the danger of motorists turning right or left and never seeing him until they collided.
He lives out in the city edge, not on a grid street pattern, and there are no quiet residential streets where he could ride, parallel to the big, fast-paced streets (45-50 mph). In addition to the real danger of collisions, there is the belief (NOT held by James!) that since the cyclist is on a "bike path," s/he is safe--!!!!
All of a sudden, my concerns about bicycle safety are ratcheted up to a higher level...
Bob Boyce
Lincoln, Nebraska.